Overview
The RPBCWD Board of Managers approved development of the Ecosystem Health Action Plan (EHAP) in February 2023. The ultimate purpose of EHAP will be to inform, through an ecosystem lens, development of the 10-year management plan update.
The EHAP effort will consist of the following tasks:
Review of relevant literature and district projects/programs
GIS data collection and map development
Soil health investigation and fieldwork
Technical Advisory Panel workshop facilitation
EHAP development
---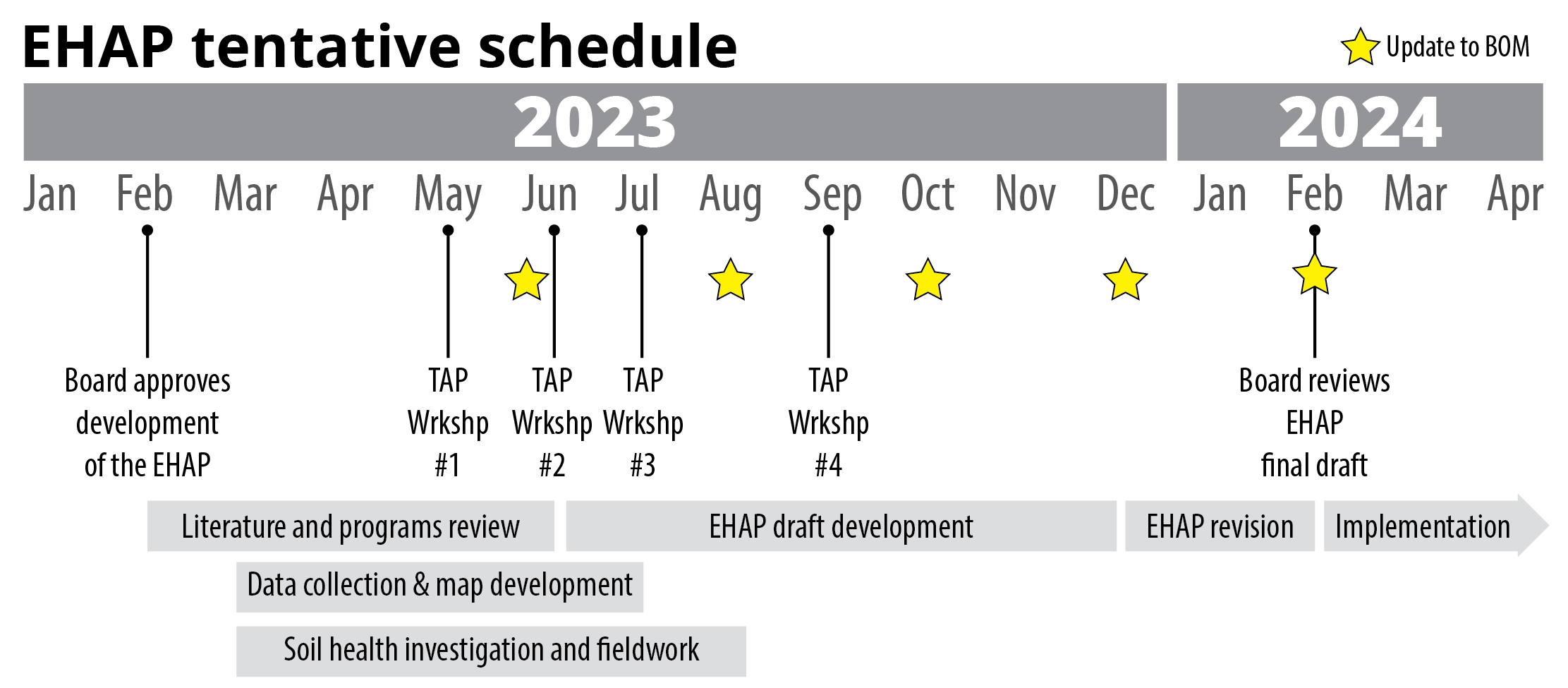 ---
Plan Components
Once developed, the action plan will tentatively include:
A vision and goals for ecosystem health within RPBCWD
A description of historic land use that has altered ecosystem function
A description of existing ecological conditions
Maps showing climate change and urban heat island areas of vulnerability within RPBCWD
A summary of how RPBCWD current programs, projects, and regulatory activities align with an ecological approach and authorities
A summary of ecosystem function issues and opportunities for preservation, management, or enhancement
A description of ecosystem function improvement strategies
A description of existing and potential partners for the District to achieve ecosystem function improvements
A description of short and long-term priorities for implementation of ecosystem health initiatives
Technical Advisory Panel
A Technical Advisory Panel (TAP) was formed to provide input during the EHAP development process. The panel includes representives from multiple disciplines in city, county and state governments and other organizations. A series of TAP workshops are being faciliated to identify challenges and opportunities for fostering a healthy urban ecosystem.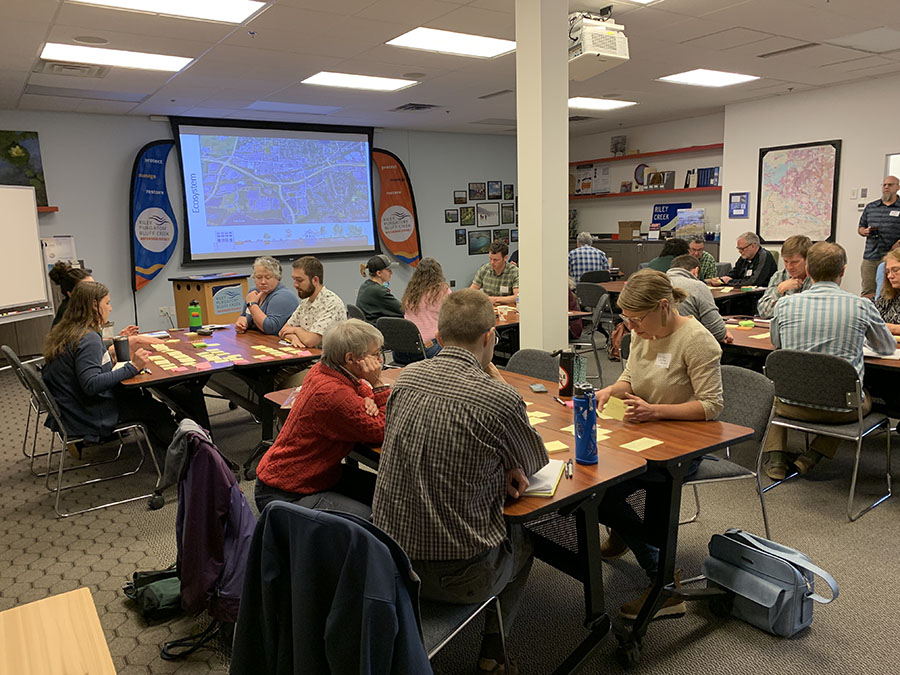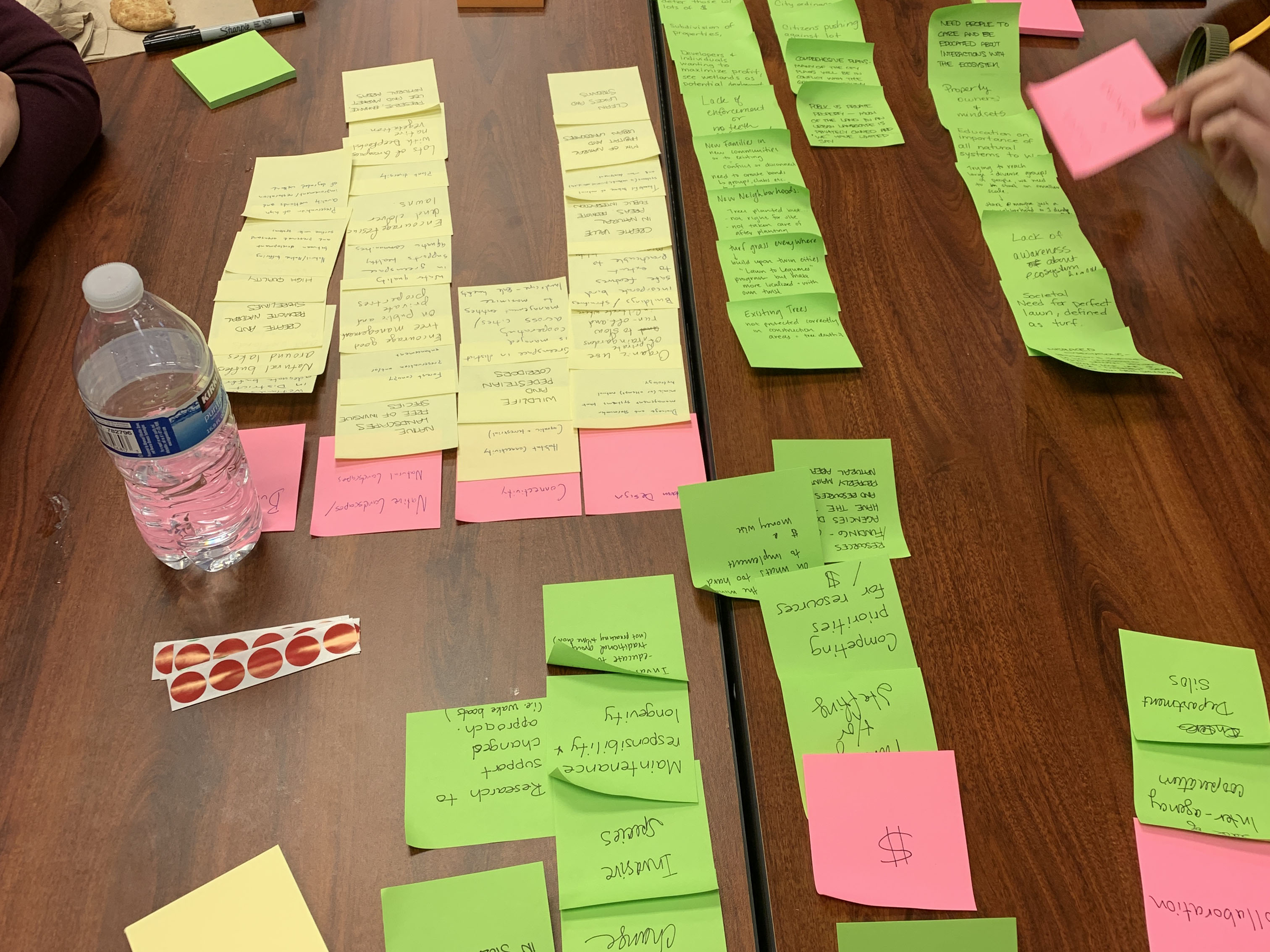 Photos: Scenes from TAP Workshop #1.
TAP Workshop 1: Identifying challenges to a healthy urban ecosystem
TAP Workshop 2: Identifying efforts and gaps in supporting a healthy ecosystem
TAP Workshop 3: Identifying solutions to ecosystem health issues
Calendar
This calendar will be updated as information becomes available.
Feb 1, 2023 Board of Managers approves EHAP development
May 18, 2023 EHAP TAP Workshop 1
June 15, 2023 EHAP TAP Workshop 2
July 20, 2023 EHAP TAP Workshop 3
Sept 2023 EHAP TAP Workshop 4 - PENDING
Contact
Terry Jeffery, District Administrator
Documents
Technical Advisory Panel
A huge thanks to our Technical Advisory Panel!
Members include professionals from multliple disciplines including planning, community development, natural resources, water resources, and sustainability from:
City of Chanhassen
City of Chaska
City of Eden Prairie
City of Minnetonka
City of Bloomington
City of Shorewood
Hennepin County
Carver County
Carver Soil & Water Conservation District
MN Board of Water and Soil Resources (BWSR)
MN Department of Natural Resources (DNR)
Natural Resources Conservation Service (NRCS)
US Fish and Wildlife Service
Nine Mile Creek Watershed District
RPBCWD Citizen Advisory Committee (CAC)
RPBCWD Board of Managers
EntoVentures
BARR Engineering